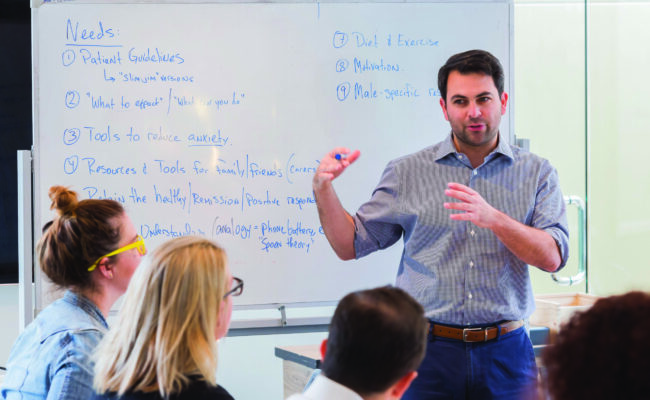 Education is a foundational tenet of GHLF Australia
Education and support are a critical part of our mission to help people live better with chronic disease. When you're diagnosed with a chronic illness such as migraine, arthritis or cardiovascular disease, you have a lot of questions — from managing symptoms to finding the right treatments to making lifestyle changes to navigating the impact on personal relationships. GHLF Australia provides valuable resources and programs to help people with chronic illness feel connected to a community that understands them.
Our aim is to inform and empower patients so they can improve their care and well-being.
All of our content and education resources will always be available for free.
Vaccination education
Vaccine education related to all preventable diseases is critical. COVID-19 makes this work a universal priority for patients, healthcare organisations and governments.
Medically underserved and immune-compromised patients need easy-to-understand answers to their vaccine questions, in formats that are accessible and readily shared with their family and community.
MatterofVax
MatterofVax is an initiative developed by GHLF Australia. The initiative aims to address patient knowledge, concerns and confidence in all vaccinations and ease the process for patients by providing accessible evidence-based information and ongoing support.
Our MatterOfVax podcast series explores the issues surrounding patients, caregivers and the community on the topic of vaccination, COVID-19 risks and staying safe. Our MatterofVax Facts series takes us through the history of vaccinations through videos and stories. The initiative also features the personal stories of people from our community and their journey with vaccination during COVID-19.
For more information, visit our MatterofVax page.
CreakyJoints
CreakyJoints® is a digital community for millions of arthritis patients and caregivers worldwide who seek education, support, advocacy and patient-centred research. We represent patients in English, Spanish and French through our websites and popular social media channels. Across our sites in the US, Australia and Canada, as well as our Spanish-language site, people living with arthritis and related rheumatic and musculoskeletal conditions will find resources to help them learn more about and live better with their chronic diseases.
For more information, visit CreakyJoints, CreakyJoints Español, CreakyJoints Australia and CreakyJoints Canada.
PainSpot (US)
PainSpot by CreakyJoints® aims to educate and empower people experiencing pain to better understand their health, so they can get diagnosed and treated faster. It is an innovative algorithm-based website for patients with musculoskeletal diseases or injuries. The site features an interactive, easy-to-use pain-assessment tool, based on the same validated decision-making tools employed by healthcare professionals in a clinical setting.
The first version of PainSpot was created by Doug Roberts, MD, an independent clinical rheumatologist with 30-plus years of experience diagnosing and treating patients with arthritis and musculoskeletal diseases. For more information, visit PainSpot.org.
eRheum (US)
Created by CreakyJoints®, eRheum.org is a website designed to help patients get the most from their telehealth appointments. Written in patient-friendly language, eRheum defines telehealth and how rheumatologists utilise it, provides patients with access to different video conferencing portals to try with their physician and explains how to make the most of quick-moving appointments. To learn more visit, eRheum.org.
GHLF COVID-19 Patient Support Program (Global)
The GHLF COVID-19 Patient Support Program provides education and support to people with chronic illnesses who have a higher risk for COVID-19 complications and have many concerns about staying safe and healthy.
We provide informational articles, mental health tips, patient essays and advice from autoimmune, infectious disease, public health and mental health experts to help people understand how to manage their medical conditions during the pandemic. The program also provides access to digital community events to help connect patients and combat isolation. To learn more, visit the GHLF COVID-19 Patient Support Program.
Webinars (US, Canada, South America)
CreakyJoints® provides our patient community with access to leading medical doctors, researchers and healthcare policy experts via informational webinars that are conducted live, then recorded and published on our relevant CreakyJoints® websites and YouTube channel.
Topics have ranged from racial disparities in healthcare to vaccines to managing arthritis symptoms. Our webinars present cutting-edge and complex topics in healthcare and medical research in patient-friendly formats optimized for health literacy. They are interactive and allow patients to ask questions about topics that matter to them. To learn more, visit the webinar section of the CreakyJoints website.
#CreakyChats Twitter chats
#CreakyChats is a monthly, patient-driven Twitter discussion that explores topics that are important to the arthritis and chronic disease community. These hour-long, moderated discussions provide a trusted environment for patients to connect, exchange information and validate shared experiences. They are often co-hosted with patient advocates, media outlets, medical experts and fellow patient organisations. #CreakyChats often involve hundreds of patients and generate tens of millions of impressions on Twitter. To learn more, visit the #CreakyChats section of the CreakyJoints website.
Migraine education (US)
GHLF is active in migraine education and advocacy, where we help patients understand how to manage migraine disease and advocate for better treatment. Our 86 Migraine campaign aims to raise awareness about the burden of migraine disease. Our Migraine Patient Guidelines and Migraine Caregiver Guidelines educate patients about managing migraine symptoms and finding the right treatment. To learn more, visit the migraine section of the GHLF website.